Help La Crosse Community Theatre Thrive
La Crosse Community Theatre is a 501(c)(3) nonprofit corporation. Although we are successful at creating theatre, ticket sales provide only a portion of the necessary income to match our expenses. We depend on the generous support of those who believe in the arts in La Crosse. There are several options to consider when making a gift. For individuals, you can become a patron donor, commit to being an Angel Friend, join our Wings Society legacy program, and offer in-kind gifts for items or services. As a business, you can become a Corporate Friend.
Donations may be mailed to:
La Crosse Community Theatre
428 Front Street South La Crosse, WI 54601
For more information about donation opportunities, please contact our box office at 608-571-7147 or email boxoffice@lacrossecommunitytheatre.org.
Become a Patron Donor
Patron donations are monetary gifts made in addition to the purchase of season tickets. Patron donation income goes into the general operating fund. Patron donors receive the following benefits: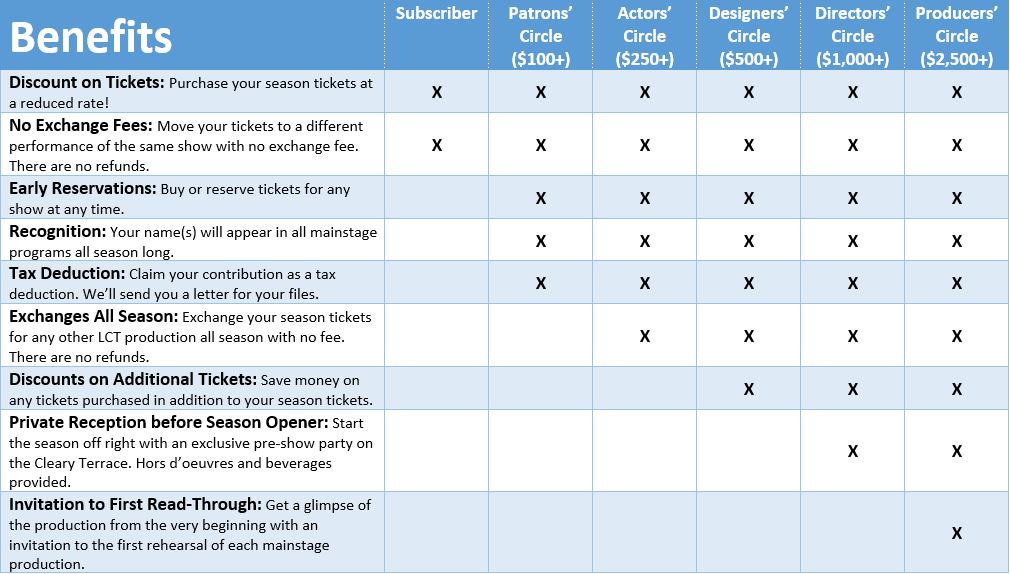 To receive the maximum benefit, it's best to make patron donations before the start of the new season. Many patrons choose to make their donation with their season ticket purchases. We are grateful to receive contributions all year round.
Angel Friend
Once LCT relocated to the Weber Center, it became apparent that a new business model was necessary to sustain in a much larger venue. As we continue to discover what the Weber Center is capable of, LCT must be mindful of the future. Angel Friends are the generous individuals and organizations that will help usher LCT into this next phase.
Wings Society
You can leave a bequest to La Crosse Community Theatre and become a lifetime member of our legacy program.
Make an In-Kind Donation
An in-kind donation is a non-monetary contribution.